We think Britton has West Nile Virus. He's had a headache, fever and body aches for a couple of days. He decided to stay home sick and work from home Friday. He's been feeling a little better but still kind of strange he says. Anyway, since he was in Greeley I asked if he would meet up with me and my co-workers down at Lincoln Park for a free BBQ meal the Greeley Stampede was putting on. I don't know if it was to butter us up because of last year's new policy to charge admission, but I'm always up for free food. Some people said they may not charge admission this year (2011), but according to their website they are still planning on it.  In any case, it was actually pretty good for a bbq and fun to see all sorts of people from Greeley come out! We even ran into one of the people who used to rent the basement bedroom from us, our friend Bob!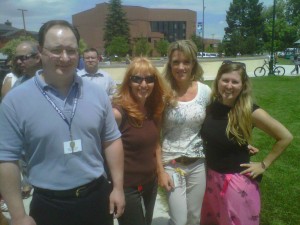 With some of my co-workers -Andrew, Marjorie, Kelly and me
Since we were downtown we thought about and  decided that Saturday morning we should ride our bikes down to the Farmers Market since we hadn't been yet this summer. So we did! There really wasn't too much in the way of local produce yet, but we picked up some tamales and a pretzel. Then I thought we should swing over and visit with my friend Michelle who works at the Greeley Freight Station Museum! Britton's grandpa used to have a huge set in his basement, so I thought Britton might get a kick out of it.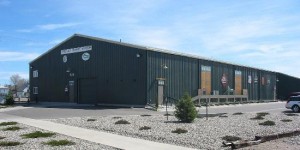 The Building for the Train Museum
It is located right next to the Farmers Market Square, or the old Train Depot (680 10th Street). The museum building looks like an old warehouse or something, but inside it houses 20.5 scale miles of miniature railroad track and lots of mini trains that are set in a scene in Oregon in the mid 1970s. There are a total of 2,000 train cars!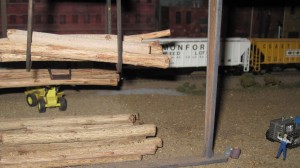 In this part you can see logging and an old Greeley Monfort Feed Lot Train Car
For the set, the attention to detail is unreal and must have taken the staff and volunteers a ton of time to put together. In addition to all the mini trains, there's also a full size caboose that you can climb in and check out. From what I understand a lot of this was the private property of the former owner of the Greeley Tribune (Greeley's newspaper). When he sold the paper and a few other newspapers, he ramped up his train set. Eventually he decided this was something that the public should see and started a museum. It is set up to eventually become a Greeley public museum when he dies.
We had a lot of fun and thank Michelle for letting us visit it and her!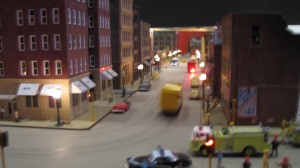 This is the city scene…down the street you can see my face in the mirror like a billboard -lol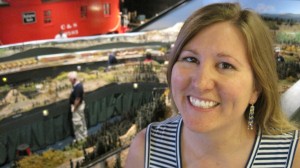 Me at the Greeley Freight Station Museum