A few weeks ago Celina, our newest blog friend, invited us over for a bbq with her and her husband. They recently moved from Virginia to Greeley. Celina is originally from Taiwan and her husband is from Germany so we had quite an International style bbq with spring rolls, grilled fish and German beer. We brought our contribution of deviled eggs from our girls out back. We were so impressed with the spring rolls that Britton and I decided to try and make some ourselves.
First we bought some rice paper, vegetable filling and fish sauce at the grocery store. Then we followed the directions to soften the rice paper and roll them up. The first few were a bit tricky for Britton, but he got it. He had rolled up a few homemade vegetable sushi rolls before, so had some experience.
They turned out great, although not quite as expertly rolled as Celina's.  Here are a few pictures of how to make spring rolls. We sauteed some peppers and the rest was just cabbage, lettuce, sprouts, and mushrooms. We put shrimp in some of them. We served them with rice and mahi mahi (dorado).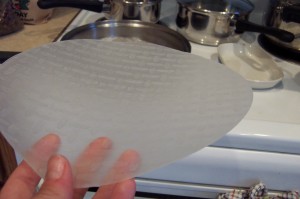 Place Rice paper in warm water to soften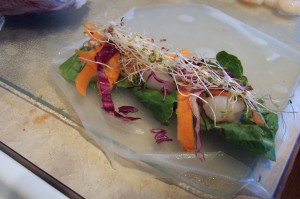 Fill with your favorite veggies (we also added shrimp) and any sauces you may want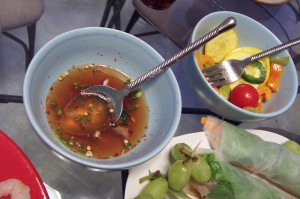 Mix up some dipping sauce with chiles and fish sauce